[ad_1]

Take a peek into our fantastical Gem Breakfast world where the teacups match your sleeves, the gummy bears match your rings, and everything is perfectly pastel. We sat down with our Creative Director, Sophie, and GB Founder, Catherine to chat about the making of our magical new photos. Keep reading to enter our delightfully color coordinated, gem-filled universe.
---
How did you start working together? And how did this photoshoot come about?  
CATHERINE: Sophie has redone our website, logo, colors, fonts – she's really elevated our brand to reflect who I believe we are. She has been pushing me to do a photoshoot for a long time but I was resistant because I hadn't found the right person to execute the vision.
When I saw karlaticas on IG and I met Karla IRL, we hit it off right away. I knew I'd found the right person and it finally felt like the right time (ironically right after I'd had a baby!)
SOPHIE: It's funny – Cat hired me to do 6 custom icons and 2.5 years later, we've rebranded her entire business. I started out as her graphic designer and morphed into the Creative Director. After the whole rebrand, Catherine asked me "Is this how it usually works? You just surprise attack people?" Too funny!
Sophie, tell us about the rebranding process
From the moment I met Cat, I loved that she had zero interest in fitting into the standard mold of a jewelry brand. Gem Breakfast celebrates diversity, empowerment, and women buying diamonds for themselves – because you love them, to celebrate a big moment in your life, or just because you feel like it!
It was exciting to shatter the idea to what you usually think of fine jewelry. Most jewelry companies are safe, impersonal, very refined and quiet. Gem Breakfast is the opposite – we're conversational, fun, approachable, witty, elegant, sarcastic at times, and positively jewelry obsessed.  
I wanted her brand to reflect how cool and fun and unique she was. I wanted the voice to be the opposite of uptight – just like Cat herself.
THE COLORS
We developed this whole world of color – it's loud and bright, playful but still elegant. It's FUN, enticing, and never uptight.
the TYPE
Next we refined her typography – we chose bold, unique, witty typefaces that reflected the wondrous yet refined world of Gem Breakfast.
What was your vision for the photoshoot?
CATHERINE: The name Gem Breakfast has always resonated with me – it feels fun, whimsical, and a little bit quirky. Most jewelers feel very romantic and bridal – I never wanted that for GB. For me, GB is fun, approachable, and cool. We eat diamonds for breakfast and do brunch with our #moreismore ring stacks. That's where the shoot came in – we've never been able to represent our brand visually and this was our moment.
SOPHIE: I wanted to create and define the world that GB lives in. Fun, loud, kind of crazy, colorful, but also very stylized, and perfectly curated with props and color. We wanted our models to be playing in this fantastical, fun world.
It was all about juxtaposing the elegance of fine jewelry with real-life situations – having coffee with friends, cheerios in her diamonds, literally doing diamonds for breakfast. It's about adding magic to the everyday.
Sophie, tell us more about the planning and those props!
To start, we had to figure out where the GB person exists. And then we had re-create that color world with our signature colors – pink, purple, and of course, peach (hello Peach Gold ®).
THE COLORS
Every prop was stylized to live within this color world. If the coffee cups were a light pink, the plate it sat on was a darker pink, the spoon another pink, and the background yet ANOTHER pink!
window.SHOGUN_IMAGE_ELEMENTS = window.SHOGUN_IMAGE_ELEMENTS || new Array();
window.SHOGUN_IMAGE_ELEMENTS.push( hoverImage: ", uuid: 's-14dca7da-73c1-402a-bb63-548ef1ecd084' )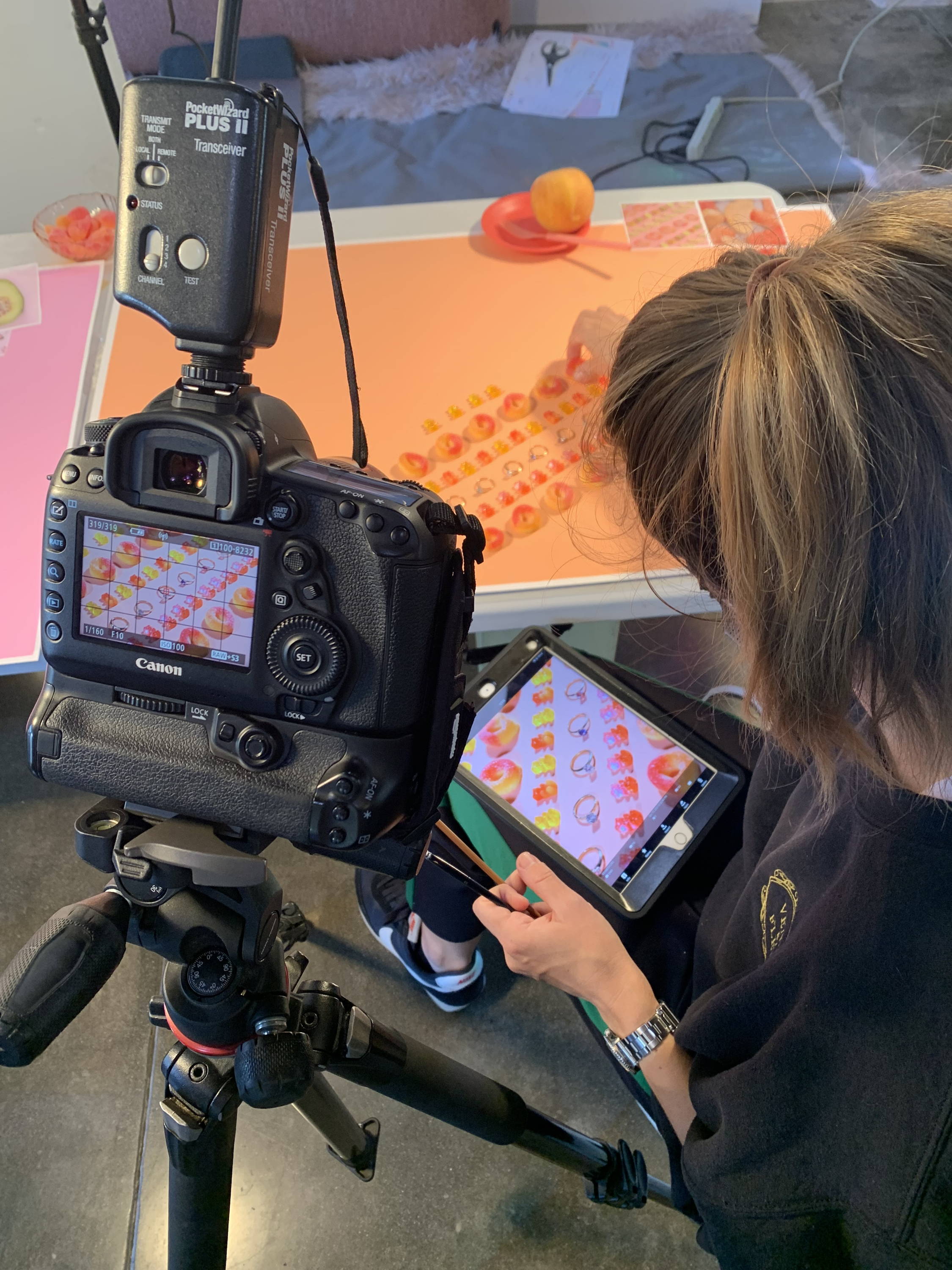 window.SHOGUN_IMAGE_ELEMENTS = window.SHOGUN_IMAGE_ELEMENTS || new Array();
window.SHOGUN_IMAGE_ELEMENTS.push( hoverImage: ", uuid: 's-c16b3af0-314d-44b6-b4f8-a19e62933510' )
Even the balls in the pills we shot had to match. We literally sat there putting tiny colored balls into clear pills. We spray painted everything and anything we could find, making sure we utilized our colors and color pairings as much as possible.
We also envisioned empowering shots – I love the one with a woman on her typewriter writing love letters to herself. Of course, the typewriter is spray painted in our signature pink.
PEACH
To honor Gem Breakfast's trademarked Peach Gold ®, we made a whole world of peach. Peach gummies, peach cocktails with a peach ring garnish, peach shoes, peach socks, and of course all the Peach Gold ® rings!
CUSTOM PROPS
We had fun creating custom Gem Breakfast branded props. My favorite is a stack of books that says "once upon a time she bought her own diamonds and lived happily ever after". We created a custom Gem Breakfast purple credit card, and even Gem Breakfast takeout packaging!
We also love the idea of career woman, so we spray painted office supplies, used a cookie as a mouse pad – we really got to play.
THE CLOTHING AND THE SHOES
Every single piece of clothing had to fit in this meticulous color world too. I shopped with tunnel vision and could only see those three hues for weeks! That's how committed we were to creating this magical, down-the-rabbit-hole GB world. And that's how insane Catherine allowed be to be – well she's just as crazy for going along with it.
BREAKFAST / FOOD
With the name Gem Breakfast, we of course had to bring in food! It's about mixing the casual feel of breakfast with beautiful, showstopping diamond rings. It's real-life with a generous dose of diamonds.
We had models playing jenga with cookie wafers, tic tac toe with straws and rings, cocktails with gummy garnish, and color-coordinated diamond cheerios!
What was the actual shoot like?
We had so much fun playing on set and it turned out even better than we'd hoped. Everything came together perfectly when we started shooting with Karla and her insanely talented team. Everyone worked together amazingly to bring our vision to life. And then we just got to just play – with the sets, the props, the clothes, the models, and most importantly the fabulous jewels.
It was a marathon day but so worth it for the gorgeous shots we wound up with. Thank you Karla!
Favorite photos?
The woman sitting on stairs reaching for the peach. She has her peach shoes, peach socks, and of course is drenched in Peach Gold® rings. I imagine that she just went shopping, her bag breaks, she sits down on the stairs (over it), reaching for her fallen peach, but everything's all good because she has her diamonds.
The spray-painted cherries shot – it's just so fun and whimsical. I love the shine on the cherries and how they look alongside the rings.
The girl having GB-branded takeout in her diamonds. She's sitting on her bedroom floor, maybe she's hungover from too much champagne, maybe it's just a relaxing Saturday. I love the casual, real-life vibe juxtaposed with the high-end fine jewelry.
What was the most challenging part?
SOPHIE: We were very ambitious with our shot list and had to let certain ideas go when we were running low on time. I had a hard time letting go of some shots I was very attached to. Catherine was like, let it go, it's ok!
CATHERINE: For real, it was a long, stressful day! I was ready for bed by the end.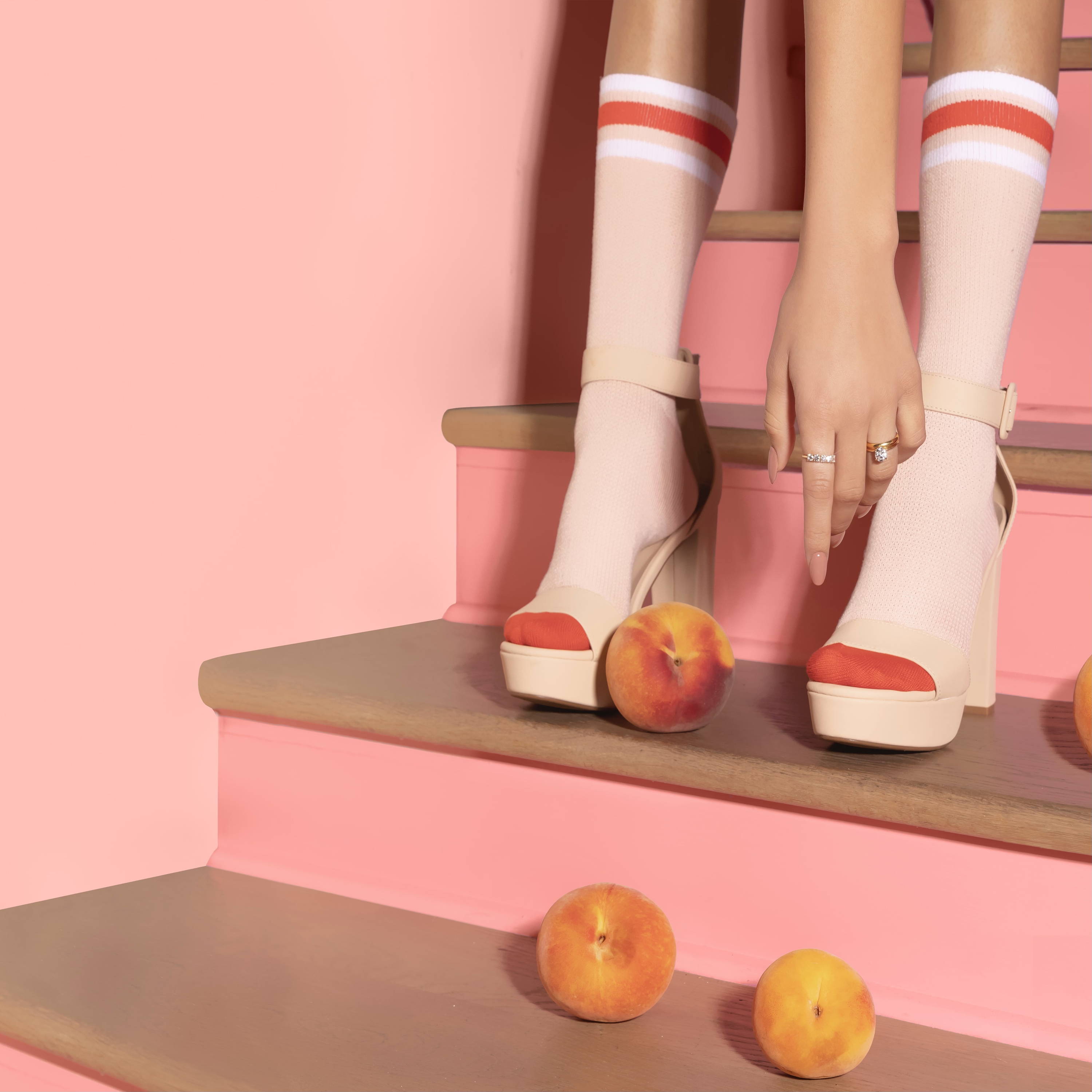 window.SHOGUN_IMAGE_ELEMENTS = window.SHOGUN_IMAGE_ELEMENTS || new Array();
window.SHOGUN_IMAGE_ELEMENTS.push( hoverImage: ", uuid: 's-5c570a72-fe94-48bf-afdf-3617e38d4f75' )
Catherine, how do you feel these photos represent the brand and you?
It's really exciting to see our brand finally represented visually – it's becoming everything I envisioned from the beginning. The planning and the shooting was a lot of work (and very stressful), but I'm so proud of how it all turned out. It's a big moment for me and the brand – I hope other people love the shots as much as we do!
---
window.__shgProductInits = window.__shgProductInits || new Array();
window.__shgProductCallbacks = window.__shgProductCallbacks || ;
window.__shgProductComponent = window.__shgProductComponent || ;
window.__shgProductCallbacks["s-ca8891e5-f291-47d2-9364-0ae44232a64d"] = new Array();
window.__shgProductCallbacks["s-ca8891e5-f291-47d2-9364-0ae44232a64d"].push(
cb: "image",
data:
uuid: "s-183a3338-1cdf-40f8-9102-de3db93b1732",
imageOffsetTop: 4699,
LAZY_LOAD_OFFSET_TOP: 750,
LAZY_LOAD_ENABLED: true
);


window.__shgProductCallbacks["s-ca8891e5-f291-47d2-9364-0ae44232a64d"].push(
cb: "title",
data:
uuid: "s-70217ea4-61db-44d7-97fe-f0ff3c3f44c6"
);
window.__shgProductInits.push(
uuid: "s-ca8891e5-f291-47d2-9364-0ae44232a64d",
platform: "shopify",
currency: "USD",
moneyFormat: "CAD":"currency":"CAD","currency_symbol":"$","currency_symbol_location":"left","decimal_places":2,"decimal_separator":".","thousands_separator":",","USD":"currency":"USD","currency_symbol":"$","currency_symbol_location":"left","decimal_places":2,"decimal_separator":".","thousands_separator":",",
productHandle: "secret-spell-teal-trillion-cut-sapphire-ring",
productVariantId: 42280334164182
);
window.__shgProductCallbacks["s-ca8891e5-f291-47d2-9364-0ae44232a64d"].push(
cb: "box",
data:
uuid: "s-ca8891e5-f291-47d2-9364-0ae44232a64d"
);
window.__shgProductInits = window.__shgProductInits || new Array();
window.__shgProductCallbacks = window.__shgProductCallbacks || ;
window.__shgProductComponent = window.__shgProductComponent || ;
window.__shgProductCallbacks["s-03492f81-2135-4c96-919c-4ef552516499"] = new Array();
window.__shgProductCallbacks["s-03492f81-2135-4c96-919c-4ef552516499"].push(
cb: "image",
data:
uuid: "s-c3de2dbc-8885-4418-a0cf-ee3953f8b1fe",
imageOffsetTop: 4699,
LAZY_LOAD_OFFSET_TOP: 750,
LAZY_LOAD_ENABLED: true
);


window.__shgProductCallbacks["s-03492f81-2135-4c96-919c-4ef552516499"].push(
cb: "title",
data:
uuid: "s-25965742-49ff-4859-85ff-eb668a397c82"
);
window.__shgProductInits.push(
uuid: "s-03492f81-2135-4c96-919c-4ef552516499",
platform: "shopify",
currency: "USD",
moneyFormat: "CAD":"currency":"CAD","currency_symbol":"$","currency_symbol_location":"left","decimal_places":2,"decimal_separator":".","thousands_separator":",","USD":"currency":"USD","currency_symbol":"$","currency_symbol_location":"left","decimal_places":2,"decimal_separator":".","thousands_separator":",",
productHandle: "coronet-white-half-moon-cut-diamond-ring",
productVariantId: 42280332165334
);
window.__shgProductCallbacks["s-03492f81-2135-4c96-919c-4ef552516499"].push(
cb: "box",
data:
uuid: "s-03492f81-2135-4c96-919c-4ef552516499"
);
window.__shgProductInits = window.__shgProductInits || new Array();
window.__shgProductCallbacks = window.__shgProductCallbacks || ;
window.__shgProductComponent = window.__shgProductComponent || ;
window.__shgProductCallbacks["s-19c2aac1-7767-43a0-b24d-158fa9018ca7"] = new Array();
window.__shgProductCallbacks["s-19c2aac1-7767-43a0-b24d-158fa9018ca7"].push(
cb: "image",
data:
uuid: "s-9e2a2b4a-04fd-4ae3-a5d8-70b3207e84d4",
imageOffsetTop: 4699,
LAZY_LOAD_OFFSET_TOP: 750,
LAZY_LOAD_ENABLED: true
);


window.__shgProductCallbacks["s-19c2aac1-7767-43a0-b24d-158fa9018ca7"].push(
cb: "title",
data:
uuid: "s-d4479a86-ee25-4ef3-b806-9a1a4e137f0e"
);
window.__shgProductInits.push(
uuid: "s-19c2aac1-7767-43a0-b24d-158fa9018ca7",
platform: "shopify",
currency: "USD",
moneyFormat: "CAD":"currency":"CAD","currency_symbol":"$","currency_symbol_location":"left","decimal_places":2,"decimal_separator":".","thousands_separator":",","USD":"currency":"USD","currency_symbol":"$","currency_symbol_location":"left","decimal_places":2,"decimal_separator":".","thousands_separator":",",
productHandle: "93-carat-stella-round-brilliant-cut-montana-sapphire-ring",
productVariantId: 42404292264150
);
window.__shgProductCallbacks["s-19c2aac1-7767-43a0-b24d-158fa9018ca7"].push(
cb: "box",
data:
uuid: "s-19c2aac1-7767-43a0-b24d-158fa9018ca7"
);


[ad_2]

Source link