Since they have large production runs, they are tested by a focus group to ensure they have wide appeal, making them safe but boring. They often use low-quality ingredients, with the "juice" in the bottle about 2 per cent of the retail price.
Niche fragrances, on the other hand, are made by companies that produce only scents. They are made in much smaller quantities, so creative risk-taking is less costly. And because their sales are driven by word of mouth rather than sophisticated global marketing machines, the quality of their ingredients is crucial.
Niche fragrances also have snob appeal and, I admit, I can be a snob. Their scarcity means you're unlikely to smell like anyone else around you.
The question is where to start.
I now felt suitably informed to start sniffing. Doing so at home lets you experience all the stages of a fragrance's development over hours.
Two websites proved to be invaluable on my scent adventures: Fragrantica and Parfumo. Both encyclopaedias of perfumes and communities of perfume lovers (or fragheads), they review thousands of fragrances, listing their ingredients, ranking their performance, and suggesting when and where to wear them.
Fragrantica reviews more fragrances (71,000 plus) and has more user reviews. Parfumo has better graphical guidelines of ingredients, season, occasion, gender and age suitability. More informed reviews can be found on the Now Smell This blog.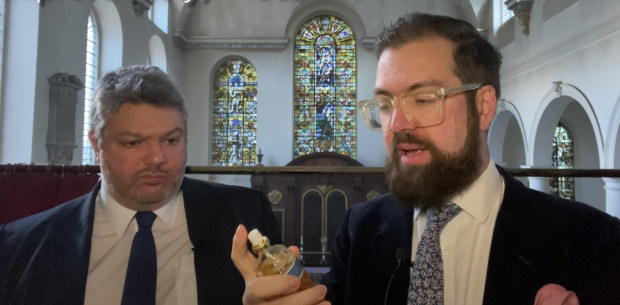 Next, I went down the YouTube rabbit hole, sampling more than 30 channels. Many YouTube reviews are "scentertainment" rather than informed criticism. The best I found was Wafts From The Loft, featuring a pair of dapper English gents with in-depth knowledge of brands I'd never heard of. Also excellent are Melbourne-based The Scentinel and UK-based Aaron Terence Hughes.
The Sniff podcast has thoughtful interviews with some of the more interesting niche perfumers in the UK, and weekly blog reviews of new fragrances.
Essential reading and great reference tools are Perfumes: The A-Z Guide (2008) and Perfumes: The Guide (2018), by influential husband and wife critics Luca Turin and Tania Sanchez, who are based in Greece. Between the two books they review more than 2500 fragrances. Their scathing reviews are often laugh-out-loud funny.
Freed from the conventions of an established brand and classical training at a perfume school, the self-taught perfumer is more innovative.
I now felt suitably informed to start sniffing – in the comfort of my home, because of the lockdown, but also because there are too many ambient smells in department stores to judge a fragrance. Trying it at home lets you experience all the stages of its development over hours.
Numerous websites specialise in selling perfume samples, as do many speciality fragrance stores. Many brands also sell sample discovery packs online. These often come with a discount code to use should you go on to buy a
full bottle.
Before I started spritzing and sniffing, I needed some method to my madness. I decided I was looking for three fragrances: an everyday warm-weather scent; a cool-weather equivalent; and a special-occasion perfume for things such as weddings and dinner parties. Preferences being subjective, for your sake, dear reader, I decided to pick my personal favourite in each category, and then two alternatives.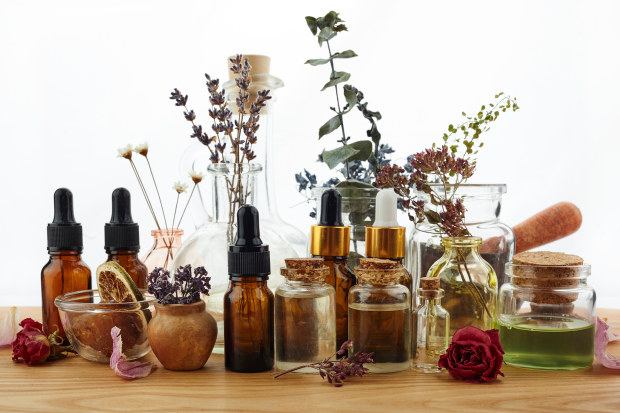 Since most fragrances go through top-, middle- and base-note stages, I'd test one a day on my skin. Favourites would be tested a second time.
I tested all genres: citrus, floral, aquatic, woody, oriental, gourmand, chypre (a unisex citrus and woody-oakmoss scent) and fougère (a masculine, barbershop-style fragrance).
It's a commonly held view among many fragrance critics and websites that the best new releases of the past 20 years are from niche brands owned by self-taught perfumers. Freed from the conventions of established brands and classical training at a French perfume school, so the theory goes, the self-taught perfumer is more innovative. From my sniff tests, I believe I agree.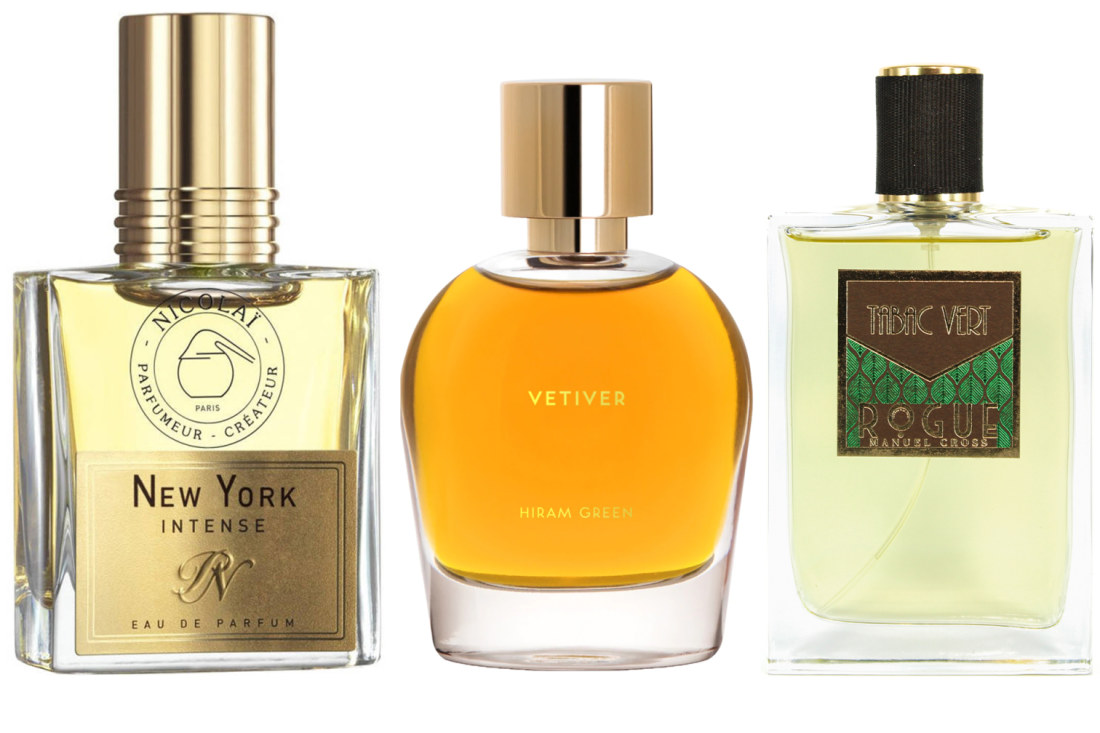 COOL WEATHER TOP PICK | New York Intense by Parfums de Nicolaï
This has a classical masculine structure – citrus, lavender, woods and oakmoss. Perfumer Patricia de Nicolaï is a descendant of the famous French perfume-making Guerlain family. In the 1980s she was denied the chance to become in-house perfumer at Guerlain because she was a woman. She left and set up Parfums de Nicolaï. Guerlain was bought by LVMH and hasn't released a great fragrance in 20 years. Renowned critic Luca Turin said of New York Intense: "It is the greatest masculine ever, and probably the one I would save if the house burned down." Success is the best form of revenge.
ALTERNATIVES
If you'd prefer something woody, try Vetiver by Hiram Green. Vetiver is a type of long grass. Haitian vetiver smells fresh and green while Indonesian vetiver is woody and smoky. This opens with citrus and ginger. In the middle are both Haitian and Javanese vetiver, cedar follows in the base. Hiram Green is a Canadian-born perfumer working in The Netherlands who uses only natural ingredients.
For something refined, gentlemanly and old school, Tabac Vert by Rogue Perfumery is ideal. It opens with bitter orange, then peppery florals. The green tobacco of the name has a great hay-like smell. Rogue is the work of US-based Manuel Cross, a chef for 25 years before he focused on his perfume "sideline" in 2019. Rogue lives up to its name: it warns that it ignores European industry guidelines on the use of some fragrance ingredients. About 2 to 3 per cent of people develop skin allergies to some natural oils.
WARM WEATHER TOP PICK | Pegwell Bay by Haeckels
This is an aromatic, herbaceous and slightly "coastal" fragrance. It starts with anise, juniper
and mint, the "coastal" note comes from seaweed. It really does seem to capture the aroma of a semi-wild place, as all Haeckels fragrances aim to do. UK-based founder Dom Bridges gave up a globetrotting advertising role after a career crisis while working in China. He left London and moved to the coastal town of Margate in Kent. While working out what to do next, he became a volunteer beach warden and noticed how much seaweed covered the beaches. He started making seaweed-based soaps. Fragrances followed.
ALTERNATIVES
If, like many people, you're looking for a refreshing citrus fragrance for summer, then Nio by Italian-based Xerjoff is excellent. It feels bright, fizzy and clean. Powerful, natural neroli and bergamot is followed by jasmine. The longevity is excellent, which is rare for a citrus fragrance.
For a classic chypre, Dryad by UK-based Papillon Artisan Perfumes sparkles. It opens with bergamot, then come grassy notes of hay and galbanum, with thyme, tarragon and sage to follow. It finishes on oakmoss and vetiver. The scent smells like a walk through a forest. Perfumer and owner Liz Moores is another self-taught perfumer. Formerly a remedial massage therapist who used essential oils to help relax clients, she spent five years studying and experimenting before releasing her first perfume.
SPECIAL OCCASION TOP PICK | Mem by Bogue
I used to loathe the smell of lavender; it reminded me of potpourri. Until I tried Mem by Bogue. Lavender is a classic base for masculine perfumes. Mem opens with a huge, complex, shifting lavender, then a touch of rose and jasmine. This is art in a bottle. It also garnered the most compliments of every scent I tested. Astonishingly, Bogue founder and perfumer Antonio Gardoni is an architect by day and perfumer at night, when, he says, the light doesn't adulterate the chemicals, and the smells of the day have disappeared.
ALTERNATIVES
For a boozy, woody fragrance, Baraonda by Italian brand Nasomatto is unbeatable. This stunning and unique scent made me smile as soon as I inhaled it. It opens with a sweet whisky which blends beautifully with the rose that follows. It's very concentrated, so you'll only need one or two sprays. The boozy notes mean it's not a work scent – your colleagues will think you have a drinking problem – but it's perfect for a quiet night out with friends or a partner.
If you want something that transports you to a foreign land, L'Air du Desert Marocain by Swiss brand Tauer Perfumes will take you to Morocco. It opens slightly spicy, but it evolves the longer you wear it: by turns aromatic, resinous, woody and earthy. The way it keeps changing evokes the name – a breeze that keeps bringing in new aromas as the wind changes. Founder Andy Tauer is another self-taught perfumer. His blog covers his experiments and news updates.
By definition, niche fragrances are not widely available. Melbourne-base
d LKNU is an excellent niche fragrance store. It sells New York Intense, Tabac Vert, Dryad and Mem. Baraonda is available from Lore Perfumery. Barbers and men's grooming chain Men's Biz sells L'Air du Desert Marocain. Nio is available from Libertine Parfumerie. Pegwell Bay can be found online direct from Haeckels. Vetiver is available direct from Hiram Green.
Although I now own my three favourites, I'll probably soon add the six alternatives reviewed. Is this just indulgence?
I'd argue there's evolutionary logic to it. Smell is the oldest of our senses – even bacteria have it – and evolved to warn us of approaching danger. A new smell means a possible new threat. A familiar smell is judged safe, since it hasn't eaten us already, and our brain stops telling us it's there. This is why I'd wear my two old favourites and forget they were there. Rotating your fragrances surprises your nose and brain and makes them pay attention.
I began this quest looking to ease my boredom by searching for better fragrances. I found them, but I also discovered something unexpected: a wider appreciation of the sense of smell. Lockdown had impoverished my sensory connection to the world, but it ended enriched.