[ad_1]

Since being introduced to Antipodes Skincare back in 2012, I'd watched the brand grow, with a lot of interest. It's a brand of skincare that I particularly enjoy using, and one of very few organic and natural skincare brands that I have no hesitation telling people about, simply because it does the job, and then some!
They've introduced quite a few new products in recent times, and one that piqued by interest was the Antipodes Glow Ritual Vitamin C Serum. We all know how I am about a Vitamin C serum! I'm mad for them!
What interested me more than another new Vitamin C serum, was that the Antipodes Glow Ritual Vitamin C Serum is made from a natural source of Vitamin C – kakadu plum.
I was a little sceptical if it's better than chemically derived Vitamin C, I must admit, but in my books, anything from one of my favourite brands is worth a try! 🙂
Antipodes Glow Ritual Vitamin C Serum – with Kakadu Plum and Bakuchiol
While I'm no expert, I have learnt to recognize the ingredient names for Vitamin C and its various derivatives. But when confronted with a product that is a Vitamin C serum but does not contain these ingredients had me a little stumped.
The Vitamin C in the Antipodes Glow Ritual Vitamin C serum is derived from the Kakadu Plum. Kakadu plum is said to contain up to 100 times the Vitamin C found in oranges, and is a potent superfruit that contains the world's highest natural levels of Vitamin C. While this might be true if consumed, I wondered if it was true of topical application on skin. After all, Vitamin C in most skincare is not derived from oranges.
Antipodes says that the Kakadu Plum extract in the Glow Ritual serum helps brighten skin, boost collagen, address pigmentation and defend against damage that can lead to early aging. Pretty much everything that a Vitamin C serum should do.
The other interesting ingredient I noticed was the inclusion of Bakuchiol. Bakuchiol is a natural ingredient sourced from the babchi plant, and has been touted as a natural alternative to retinol. It is supposed to result in smoother, firmer skin and contains anti-inflammatory and antioxidant properties. Bakuchiol, as a retinol alternative, is also touted to be a more gentle product, with less harsh effects on skin as opposed to chemically derived retinol.
More interesting for me, was how the Glow Ritual Vitamin C serum works. And I have to say I was surprised.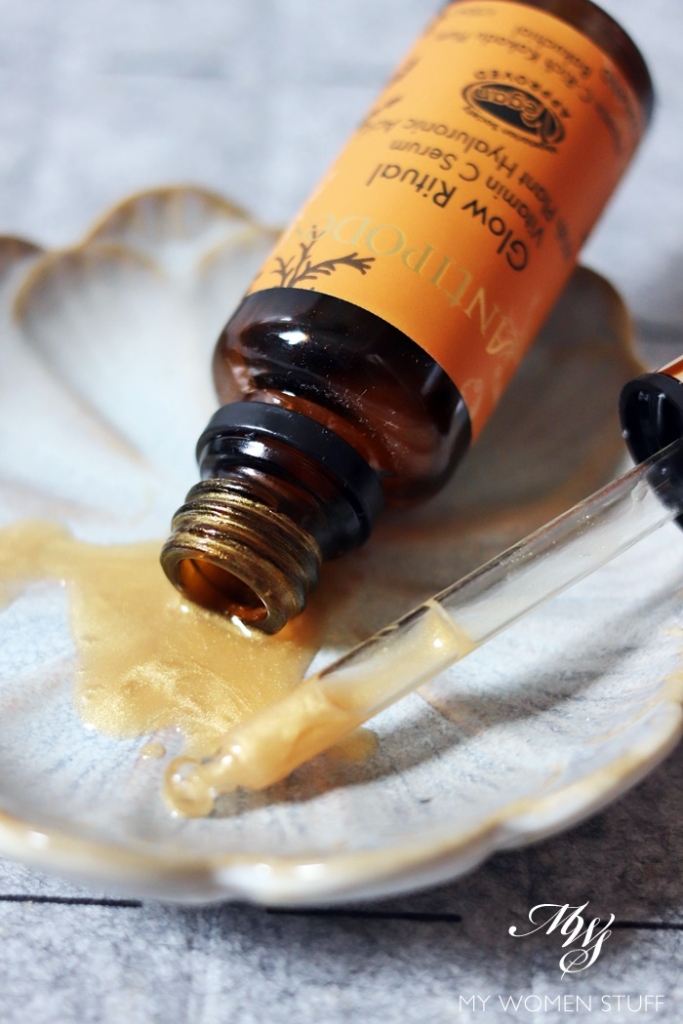 Golden serum – literally!
The first thing to surprise me about the Antipodes Glow Ritual Vitamin C serum, was its texture. No, not the super lightweight water-based serum that sinks right into your skin from the get-go!
It was the colour.
The serum is, well, gold! The serum has, what looks like flecks of gold, suspended it in but very evenly. It looks and moves just like molten gold. Very mesmerizing, and almost makes you feel like you're putting something very precious on your skin LOL! 😛 What can I say? Sometimes, gimmicks like this have a placebo effect!
The texture is lovely and light, and it gives skin an almost instant boost of hydration, thanks to its plant-based hyaluronic acid.
The nice thing about using the Glow Ritual Vitamin C Serum is that you just need 1 serum for your hydration and skin brightening needs. This boosts your skin hydration and the Vitamin C goes to work to boost collagen production and brighten your skin tone.
Skin does look better with prolonged use
I'd finished a whole bottle of the Glow Ritual Vitamin C serum before I remembered to share about it! Thankfully, I had a spare in my skincare wardrobe.
While any benefits to be seen were very subtle, I noticed that my skin benefited from using the serum over a prolonged period of time.
During this time, the Glow Ritual Vitamin C serum was the only Vitamin C serum I used. I don't usually mix my Vitamin C serum products. I also used this in the morning, everyday, for it met my hydration serum requirements as well.
Bear in mind that I am exposed to the morning sun for a few hours everyday, which does wreak havoc on my skin. However, coupled with a good and effective sunscreen, I have found that my skin tone and colouring was kept in check. When I went to test a new foundation recently, I found that my foundation shade was still the same, despite 2 years of increased daily sun exposure. I guess the Vitamin C was doing its job at brightening my skin and controlling pigmentation.
RELATED READING: I tried the Melano CC Vitamin C Brightening Essence before it was available here, and it's my favourite budget Vitamin C serum! READ HERE
I have noticed that while I was using the Antipodes Glow Ritual Vitamin C serum, my skin looked and felt calmer. The were no problems with it, and I did not experience any breakouts, nor any untoward incidents. I did notice that my skin felt and looked a little smoother during this time as well.
However, it must be noted that I am rather fastidious about caring for my skin, so I make sure I cleanse my skin well daily, use a good sunscreen daily, and serums and creams both day and night.
Can I attribute my skin health and clarity at this time to the Antipodes Glow Ritual Vitamin C serum? I cannot say that it was 100% responsible for how my skin looked, but I can most certainly say that it was a contributing factor insofar as Vitamin C in my routine was concerned.
Is the Antipodes Glow Ritual Vitamin C Serum better than other Vitamin C serums?
Personally, I'd peg this serum as one for someone who is particular about the ingredients of their skincare products, who prefers using products that are naturally derived.
The truth is that I'm not particularly sold on the idea of Kakadu Plum extract being an effective Vitamin C ingredient on skin (as opposed to being ingested). The results are noticeable, if you pay attention, but it isn't as quickly noticed as one from a serum containing high percentages of chemically derived Vitamin C.
What is nice however, is that it feels very gentle and very hydrating on skin. The scent is pleasant, and the product does not irritate the skin the way one with a conventional Vitamin C or retinol ingredient would. For this reason, I'd say that it's one perhaps for someone wanting to maintain some sort of glow and evenness to the skin and skin tone.
It would not be my first choice if I was looking for a Vitamin C serum, but if I've gotten my skin to a level where I'm happy with how it looks, and I were in the market for something more 'natural', then this would be it. The pretty texture does a lot to sway this opinion too! 😀
IN A NUTSHELL

The Antipodes Glow Ritual Vitamin C is a natural and vegan product that hails from New Zealand. The Vitamin C in the product is derived from Kakadu Plum, and the product also contains bakuchiol, a natural retinol ingredient. It is supposed to even and brighten skin tone, boost collagen production and give you smoother, firmer skin. It does do all this, but slowly. Patience is key especially when using a natural-based product. I love how it feels and how it looks. It is very aesthetically pleasing. It also feels lovely on skin and sinks right in, plumping skin up with a hydration boost. The skin brightening effects are noticeable if you pay attention, but it isn't very drastic, as you would notice from a chemically derived Vitamin C ingredient. I'd peg this as a 'maintenance' product, for those who are happy with the state of their skin and want a serum that both hydrates and brightens, but gradually. It's lovely when your expectations are managed.

PROS:
Lovely lightweight texture with golden shimmer
Sinks into skin giving skin an immediate hydration boost
Skin does look more radiant and skin tone more even over time
Not irritating to the skin

CONS:
Pricey
Percentage of effective Vitamin C is unknown
Results do show but over a prolonged period of use so patience is key

WHO WILL LIKE THIS: Anyone who enjoys natural and vegan skincare and who wants a serum that boosts hydration, radiance and glow

PRICE: RM175 | £35 | AU$49 for 30ml

WHERE TO BUY: TNS Skinlab stores and online, Naturisimo, Feelunique, Antipodes website
For those interested, the ingredients for the Antipodes Glow Ritual Vitamin C serum are as below.
Aqua, glycerin, Terminalia ferdinandiana (kakadu plum) fruit extract, sodium acrylates copolymer & lecithin, benzyl alcohol; dehydroacetic acid, mica, iron oxide, titanium dioxide, sodium hyaluronate, potassium sorbate, sodium phytate; alcohol, Vitis vinifera (grape) seed extract, (Vinanza® Grape), Actinidia deliciosa (kiwi) fruit extract, (Vinanza® kiwi), bakuchiol, Persea gratissima (avocado pear) oil, fragrance of vanilla pod and mandarin: coumarin, d-Limonene†, linalool, Component of essential oil.
Have you tried the Antipodes Glow Ritual Vitamin C serum?
I'm usually far more effusive about Antipodes skincare products, I realise, but I guess you can't be churning out hits with every release. It would be nice if they did though. I am still watching the brand with great interest! 😀
Paris B
[ad_2]

Source link