Norwegian Cruise Line's (NCL) next ships, the Norwegian Prima and Viva, will feature the cruise industry's first charcoal sauna at sea as well as a two-deck, indoor spa waterfall.
The Mandara Spa's charcoal sauna, derived from Japanese and Korean wellness practices, uses a radiant heat system with an outer charcoal layer to reach temperatures between 86 and 122 degrees Fahrenheit.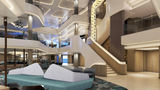 With the new class comes an effort to reposition the brand at the high end of the "contemporary" category.
Continue Reading
The charcoal sauna will be one of eight thermal offerings available at the spa, which also has a salt and steam room, an ice room, a flotation salt pool and infrared sauna.
The spa will be designed by architecture firm Rockwell Group; along with the two-story indoor waterfall, it will have a marble spiral staircase. The spa's relaxation area and the fitness center will face front over the bow, a first for an NCL ship, giving gym patrons 270-degree ocean views.
The Ice Room, also a first for NCL, is designed for use post-sauna or steam bath; the experiential showers employ multiple water jets and lighting effects; and the flotation salt pool provides an experience similar to experiencing zero gravity due to the buoyancy of the saltwater.
New treatments include Ocean Spa Wave Massage, where guests relax on a water-filled cushion, and a Zero Gravity Wellness Massage. The spa will also feature relaxation beds from the Gharieni Group: the Gharieni Welnamis bed, which utilizes Binaural Acoustic & Dynamic Stimulation, acoustic and vibrational therapy, and the Wellmassage5d bed, which provides a whole-body massage experience.
The ships will have 28 spa balcony staterooms that provide premium access to the Mandara Spa and its thermal spa experiences.