Isn't it amazing that you can go to bed perfectly healthy one night and wake up the next morning with the worst congestion ever? My husband reminds me of this all the time! He's one of those medical mysteries that can be healthy one minute and a sniffling mess the next. What better way to fight spur of the moment congestion than with menthol shower steamers?
While surprise illnesses are never fun, we've managed to find some fast-acting remedies that actually work. These menthol shower melts are perfect for when you're under the weather and need relief now.
They come together in a few minutes and combine soothing aromatherapy with the healing power of steam. Simply pop one in the shower next time you're battling the sniffles, and they'll send congestion packing.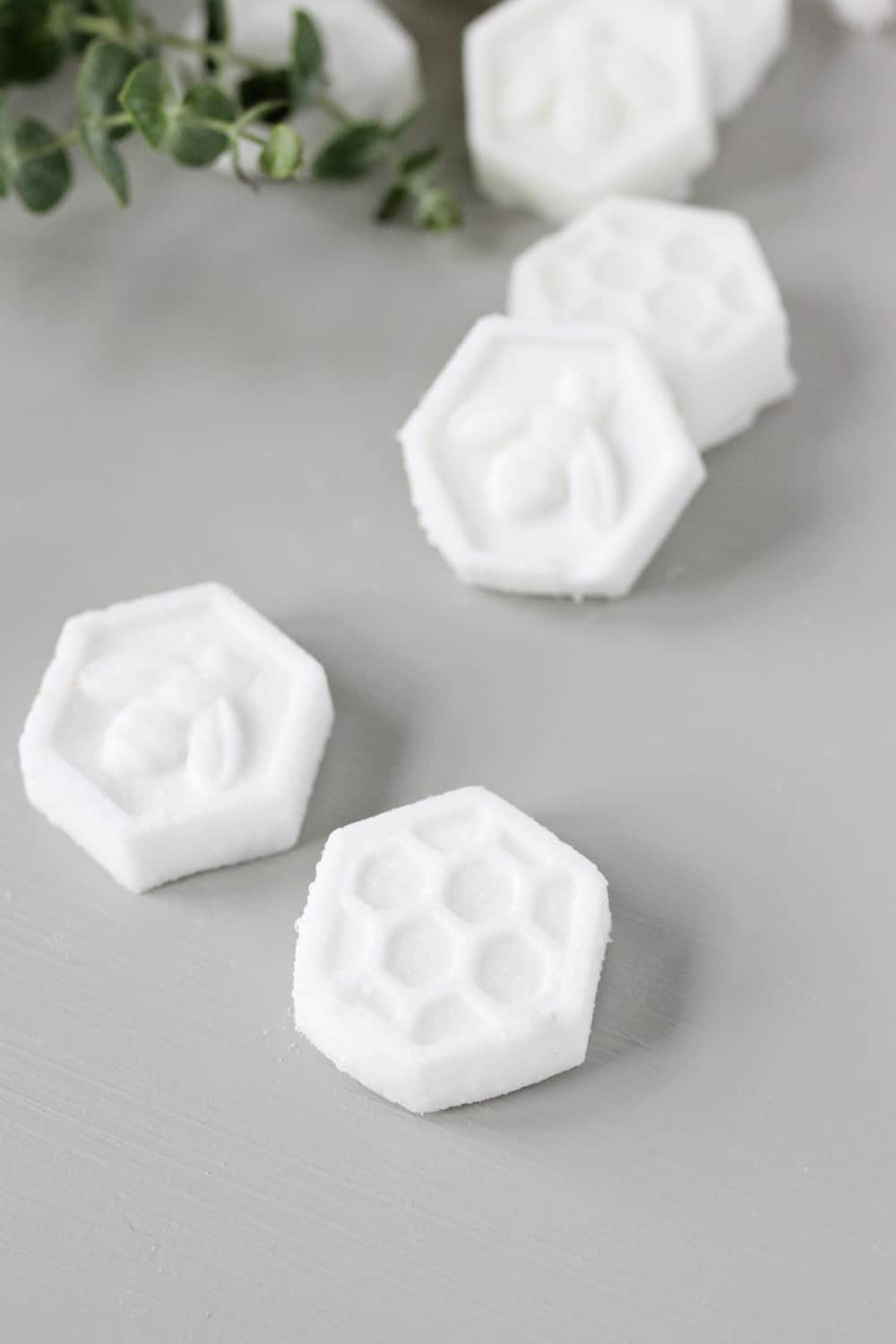 DIY Menthol Shower Steamers
There's seriously nothing more miserable than a stuffy nose. While I can overlook a little congestion during the day, the second my head hits the pillow, I feel like I'm drowning, and I'll do anything (anything!) to find quick relief.
Thankfully, these babies are like medicinal bath bombs—but for the shower. Loaded with sinus-clearing ingredients like menthol and eucalyptus, they dissolve in running water and infuse the air with soothing aromatherapy. All you have to do is stand back and let the shower steam work its magic.
In a pinch, you can even fill up a bowl of hot water, pop in a shower steamer, place your head over the bowl, and loosely cover it with a towel to get the same effect. The important thing is just to breathe and let their medicinal effects clear your sinus passages and loosen congestion.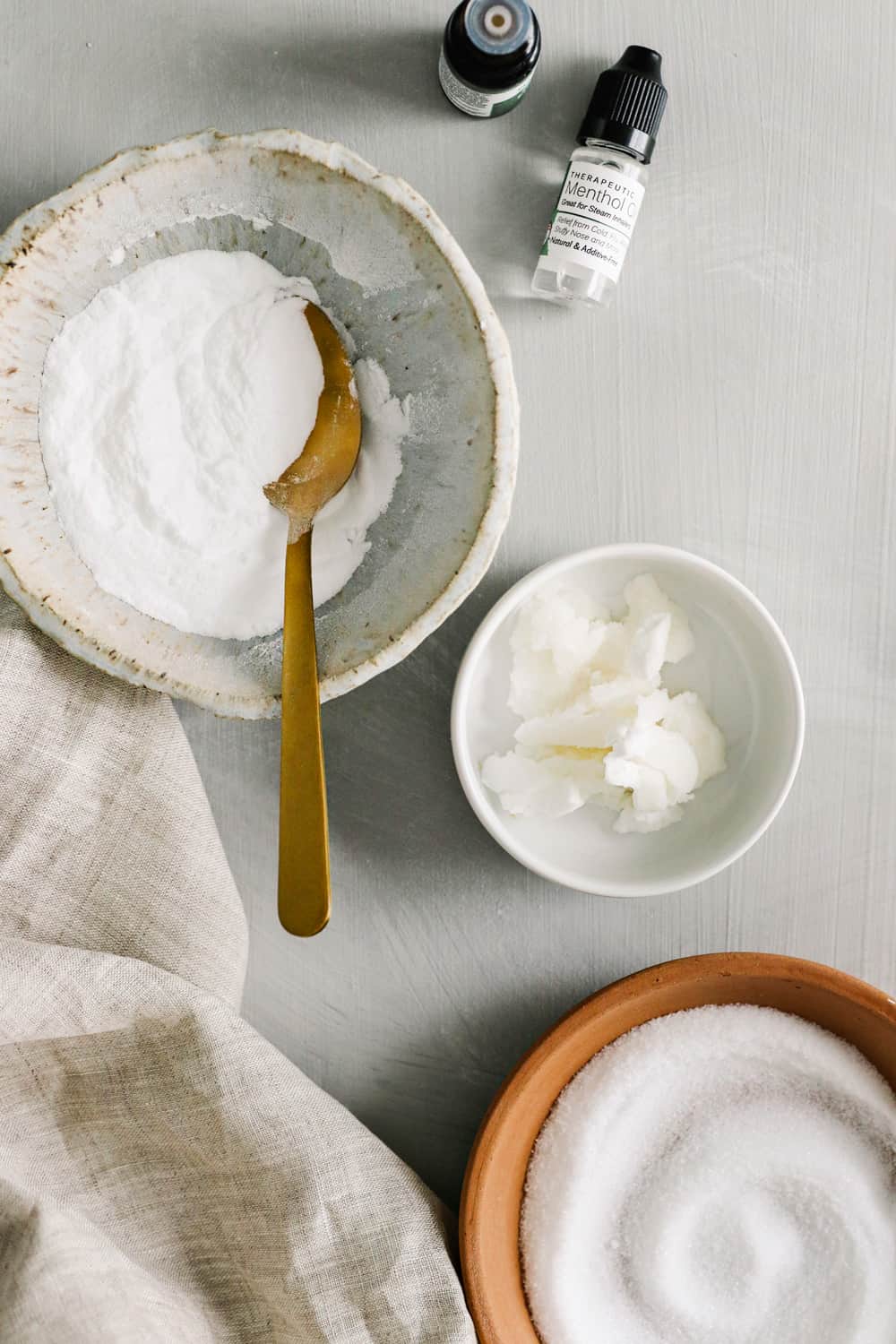 But you don't have to wait until you have a cold to use these menthol shower steamers. Since aromatherapy has been proven to reduce stress and boost the immune system, you can use them to preempt a cold, combat seasonal allergies, or simply calm the senses. Or put their cooling effervescence to good use, and try one first thing in the morning to help you get moving and feel more awake.
Best Essential Oils for Congestion
These shower steamers harness the power of eucalyptus and pure menthol. But if you'd prefer to skip the menthol and stick to sinus-soothing essential oils, here are some others you can try:
To reap the benefits, aim for 20–40 drops of each oil (or about 100 drops total). If needed, you can add more oil to reach the desired fragrance, but go slowly. You don't want to overdo it. 
How to Make Shower Steamers
I recommend making a batch in advance and storing them in the refrigerator until you need 'em. 
Materials
—1 cup baking soda
—1/2 cup citric acid
—1/4 cup corn starch (optional, but helps shower steamers dissolve more slowly)
—1 teaspoon menthol oil, crystals, or vapor rub (use more to boost the fragrance)
—20 drops eucalyptus essential oil
—2 tablespoons coconut oil
Instructions
1. Combine all ingredients in a small bowl and stir well.
2. The mixture should hold together when squeezed without crumbling, like wet sand. If needed, spray or drop small amounts of water into the mix until you reach the right consistency.
3. Push the mixture into silicone molds, greased muffin tins, or small plastic containers.
4. Set aside to dry for 24 hours. When dry, remove from the mold (place in the refrigerator for 15 minutes if it's warm outside and they're too crumbly to remove), and store in an airtight container in the refrigerator for 2 weeks or the freezer for 2 months.
When cold season strikes, just place a shower steamer in the bottom of your shower (where the water will hit it, but you won't step on it) and let the cooling menthol steam open your sinuses and relieve congestion.
Use 1–2 times daily until you're feeling better and congestion has improved.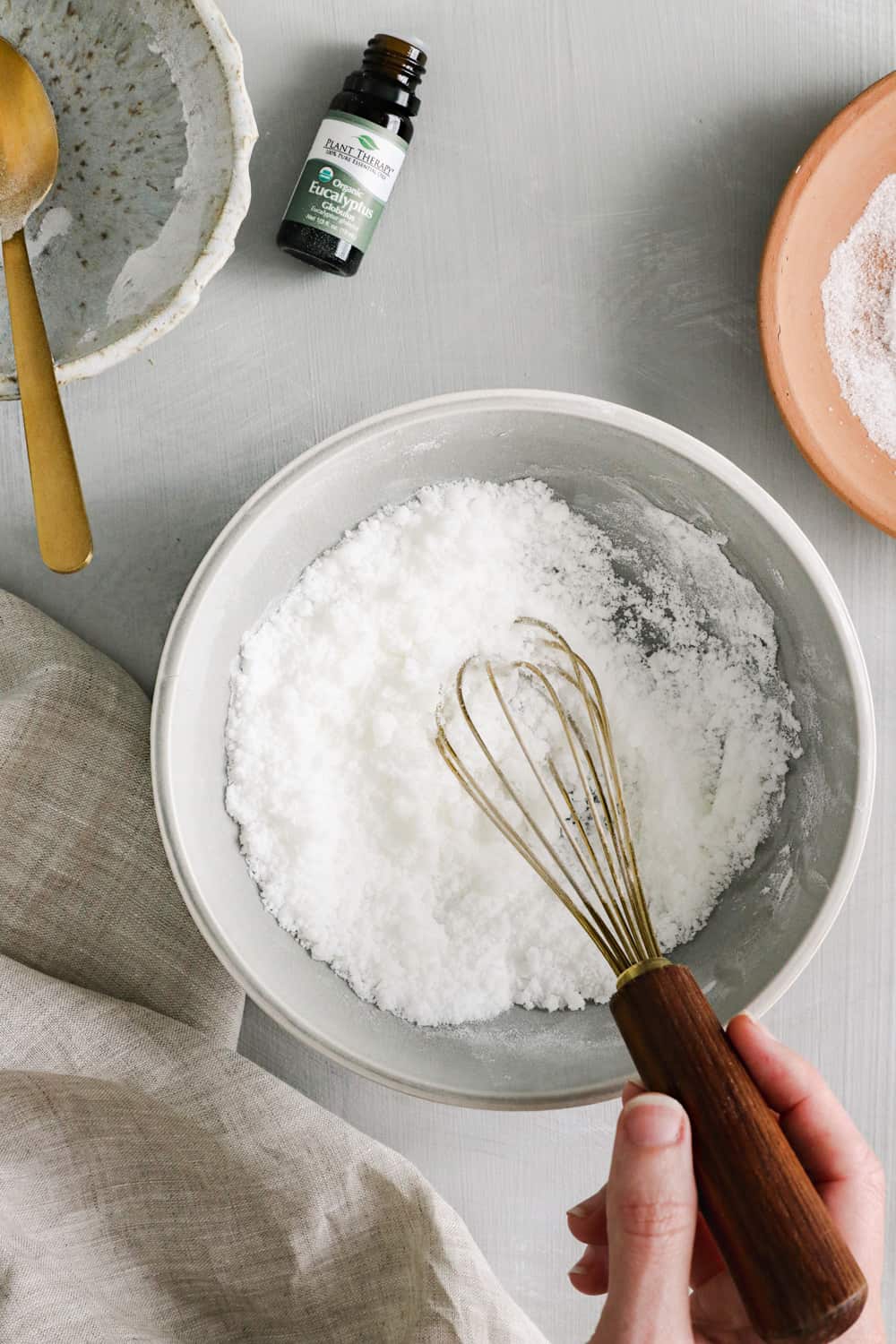 Menthol Shower Steamer FAQ
Can I use peppermint essential oil instead of menthol?
Since peppermint oil contains menthol, just at a lower concentration, you can substitute peppermint oil in place of menthol oil if you prefer. Start with roughly 40 drops of peppermint oil, and work your way up to the desired strength. 
I'd like mine to be more fragrant. Can I add more menthol and eucalyptus?
Sure! Add menthol and eucalyptus oil, 1 teaspoon at a time until you reach the desired strength. Just a word of warning: if you use too much menthol, you may notice eye and skin irritation! So start small and work your way up gradually. 
Do you need the citric acid for shower steamers?
Just like with bath bombs, a combination of citric acid and baking soda is what gives shower steamers their effervescence. Without it, the mixture will dissolve and rinse down the drain without releasing much fragrance into the air.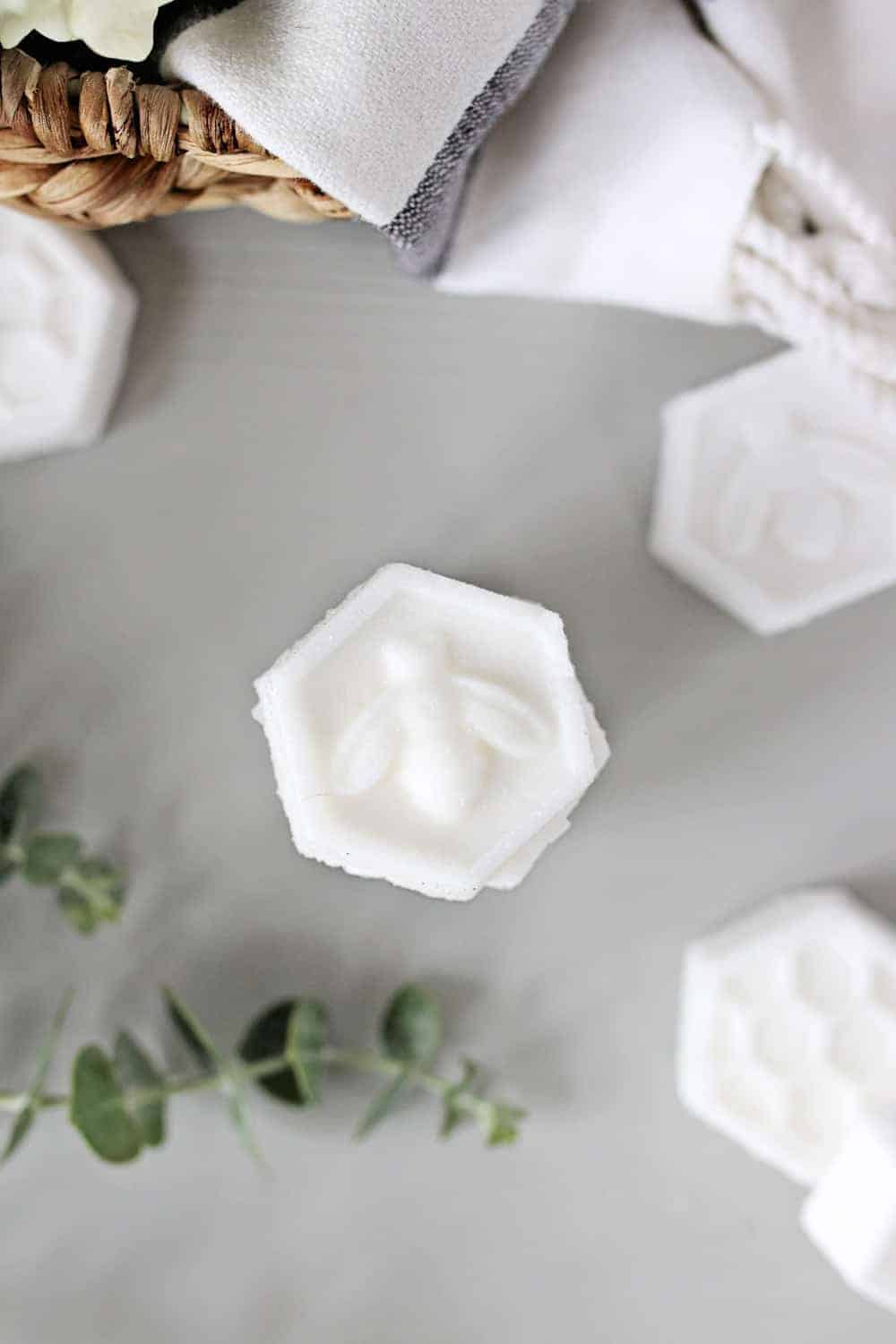 Are shower steamers safe?
Since they're made with safe, natural ingredients, shower steamers are a gentle and effective way to soothe the sinuses and incorporate aromatherapy into your day. But just like with everything, moderation is key. Stick to using your menthol shower steamers once or twice a day while symptoms persist. And stop using them immediately if you notice any eye or skin irritation. 
Will the coconut oil clog my drain?
Coconut oil has been known to do a number on drains and septic systems. While it's not recommended to put large amounts of oil down the drain, it shouldn't cause any issues when used in the small amounts with this recipe.
Menthol Shower Steamers
These DIY menthol shower steamers use the power of essential oils to quickly clear your sinuses and ease congestion from colds.
Yield: 12 steamers
Author: Stephanie Pollard
Cost: $10
Notes
To use, p

lace 1–2 melts on the floor of the shower, and allow them to dissolve in the hot water. Inhale the menthol steam.
This is the exact bee mold I used. Each little cavity holds about 3 tablespoons of baking soda mixture.
To make your shower steamers more fragrant, simply add more menthol and eucalyptus oil.
This post was medically reviewed by Dr. Holly Smith, a board-certified physician in nephrology and internal medicine with a background in nutrition. Learn more about Hello Glow's medical reviewers here. As always, this is not personal medical advice, and we recommend that you talk with your doctor.