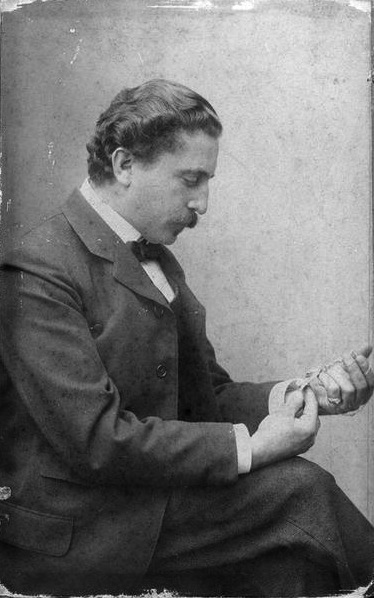 One of the finest independent craftsmen working in the French style of Art Nouveau jewelry at the turn of the 20th century was actually Belgian. A breathtaking example of Wolfers' "ex unique" jewels is coming to America, to join the permanent collection of the Virginia Museum of Fine Arts.
Phillipe Wolfers (1858-1929) was born into a family business founded in 1812, with an atelier that produced jewels for several European royal courts.
While learning the trade, Phillipe Wolfers studied art at the Académie Royale des Beaux-Arts in Brussels. In 1873, he visited the world fair in Vienna and was struck by the Japanese decorative arts on display. This led him, as it did so many others, to the Art Nouveau movement.
Wolfers dove in with a passion. In 1889, he set up an Art Nouveau-style villa in La Hulpe and, a few years later, opened his own workshop in the Square Marie Louise with a team of craftsmen.
It was a small operation compared to his more famous Parisian colleague, René Lalique, who had 30 men working in his atelier by 1890. Like Lalique, Wolfers employed skilled craftsmen to realize his designs, and produced amazing things with plique-à-jour enameling and carved semi-precious stone. He even looked a bit like Lalique.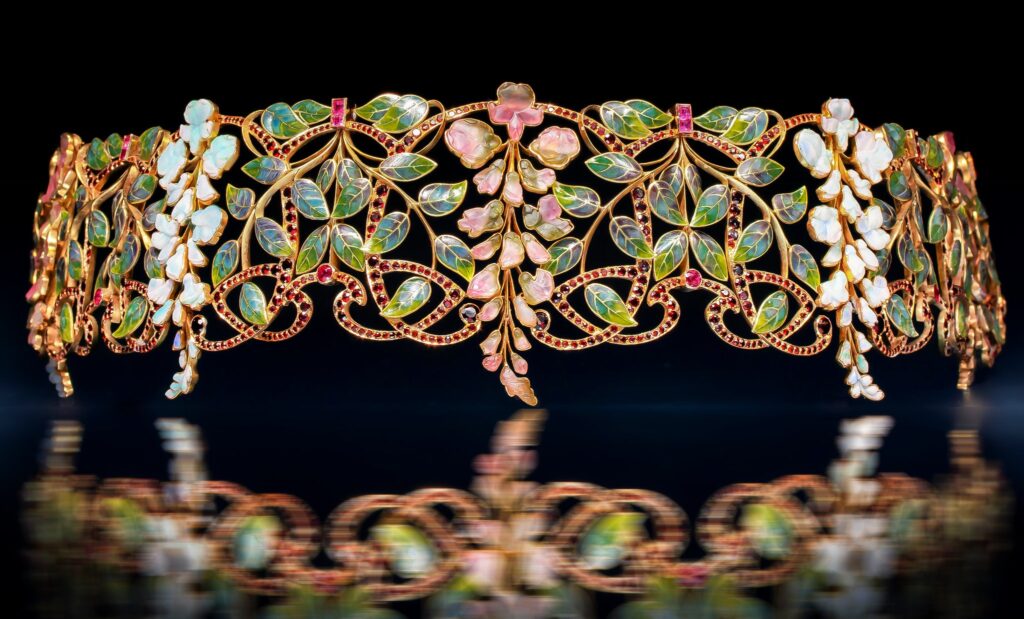 Wolfers' jewels are rare, and notable for their finely sculpted stone and ivory. Of the 152 Art Nouveau works he produced – including vases, fans, lamps, and sculptures – 109 were jewels from a series made between 1897 and 1905. They are marked "ex [exemplaire] unique" to distinguish them from jewelry made by his family's firm.
A beautiful example known as the "Glycines" choker, designed by Wolfers in 1900 and made in 1902, is coming to America. The Virginia Museum of Fine Art just bought it from the Belgian-based jeweler Epoque Fine Jewels.
I posted about this piece in 2016 just before it sold at Christie's Geneva for $277,000, about four times what was expected. It's always nice to see a bidding war over something other than big diamonds.
In this case, the ethereal beauty of plique à jour leaves, that delicate and translucent style of enameling Art Nouveau jewelers made famous, perfectly integrated with blossoms carved from opals and watermelon tourmalines, two of Wolfers' favorite gems. His wisteria vines curl around a gold frame studded with garnets and rubies formed in that familiar Art Nouveau-style whiplash.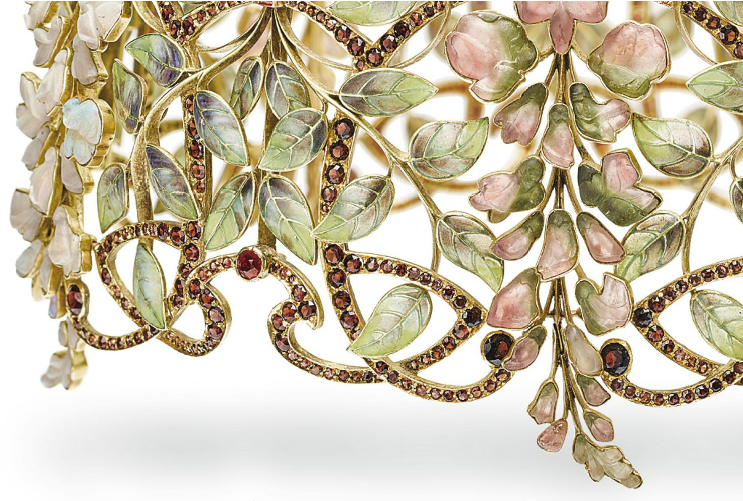 A brooch Wolfers designed around the same time sold at Sotheby's for $51,000, with plique à jour, rubies and diamonds in the shape of an insect. While clearly influenced by Lalique and depicting similar themes, Wolfers appeared to be following his own muse. Wolfers' moth was stiff and symmetrical compared to the lifelike insects Lalique was known for. So stylized, it's almost abstract.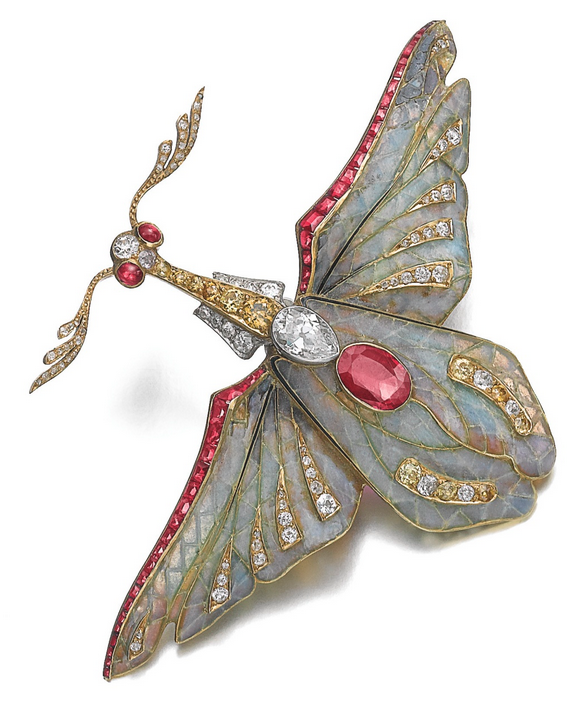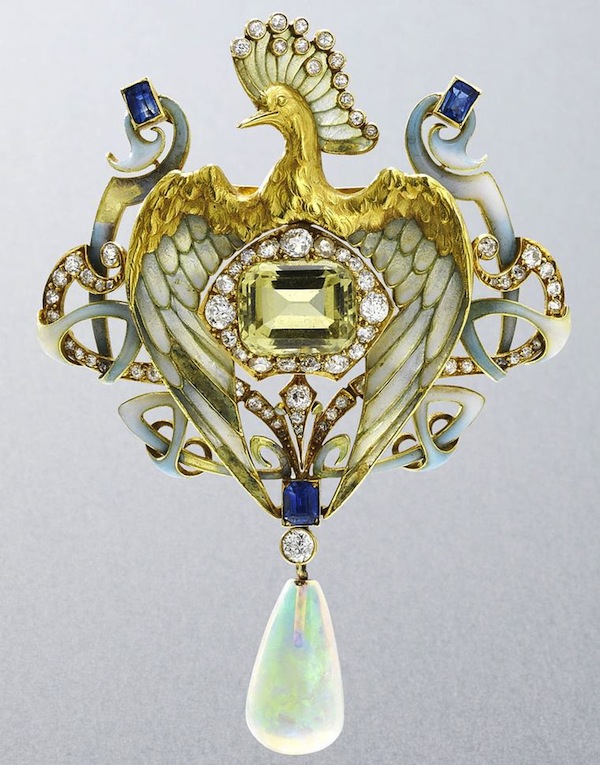 As the wisteria choker and this brooch/pendant (above) shows, he could summon the fluid forms  that typified Art Nouveau but preferred symmetry. Like other jewelers of this movement, Wolfers was affected by the rebellious spirit of the Belle Epoque. All were challenging convention and redefining fine jewelry, replacing faceted gems with carved stone and glass, conventional goldsmithing with Japanese-style metalwork and enameling. Inspired by Japanese craftsmanship, their jewelry celebrated exoticism and experimentation.
Wolfers, in particular, helped popularize the use of carved ivory in jewelry, and several of his pieces feature carved opal as well. While he worked with similar imagery – winged goddesses, snakes and insects – his interpretations were heavier than Lalique's and often unsettling: scowling Medusas and earthy nudes, nothing like the ethereal French versions.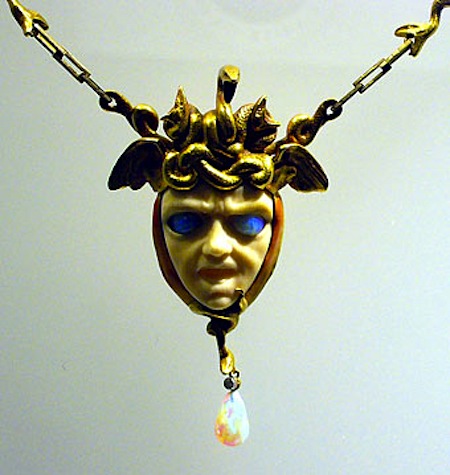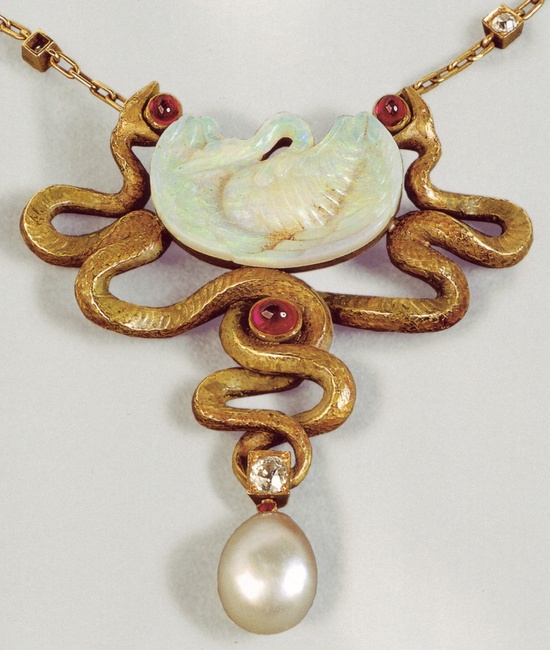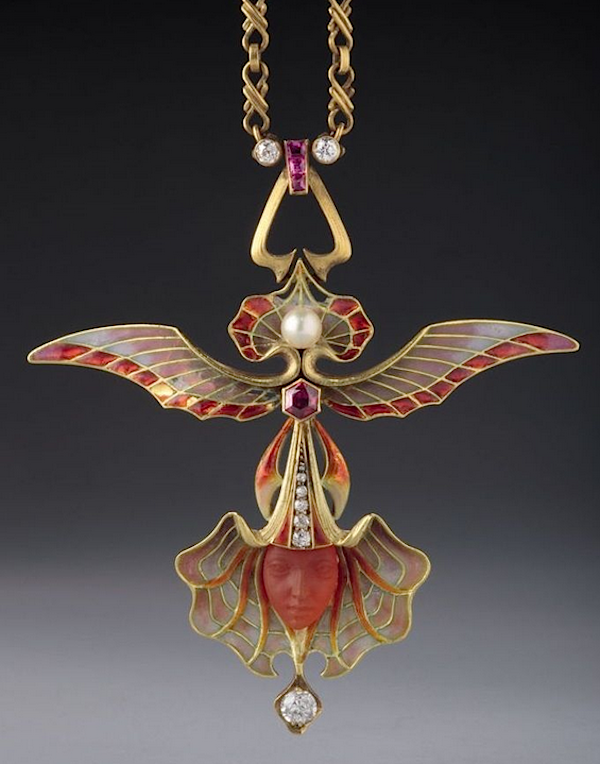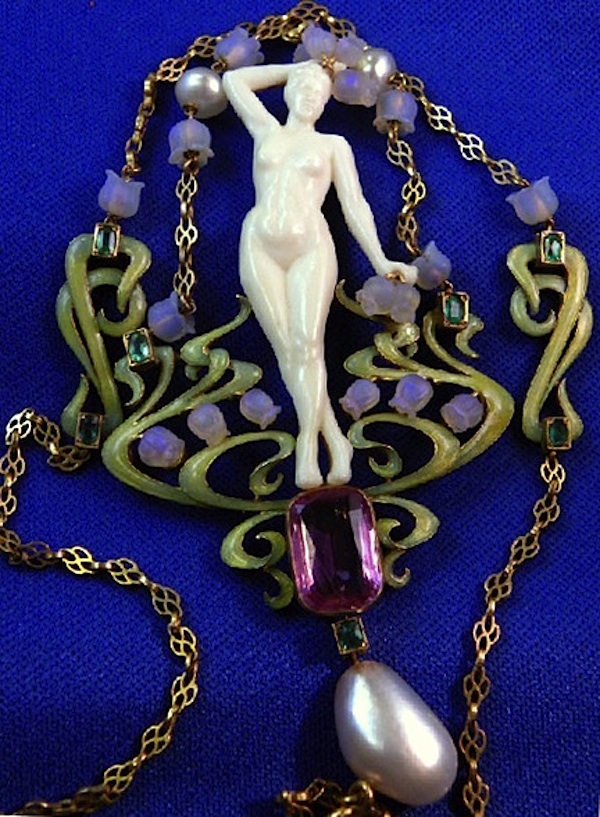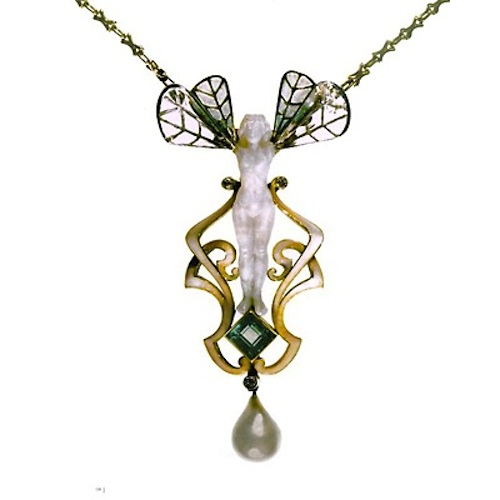 Wolfers never achieved the fame of Lalique, but both contributed to that captivating chapter of jewelry design we know as Art Nouveau. Once that chapter ended, both men abandoned jewelry altogether. Lalique went on to art glass, and in 1908, Wolfers turned his attention to sculpture.
Wolfer's "Glycines" choker is a treasure of Art Nouveau jewelry. I'm always happy when something like that ends up at a museum, so the public can see what an amazing art form jewelry can be. And I don't even have to visit Europe to see this one.
Related products