[ad_1]

San Antonio, TX, USA—Art Jewelry Forum (AJF) is pleased to announce Mallory Weston (US) the winner of its 2022 Young Artist Award. The four finalists are Taisha Carrington (Barbados), Aaron Decker (US), Marion Delarue (France), and Cong Ma (US). The winner and finalists will all exhibit their work at Platina Stockholm during Schmuck, the annual international art jewelry fair in Munich held this year from July 6–10, 2022. They will also be presented to the audience on the main stage at the Internationale Handwerksmesse, on the evening of Saturday, July 9, 2022.
The Young Artist Award is given to acknowledge promise, innovation, and individuality in the work of emerging artists and to advance the career of the recipient. The competition attracted over 100 applicants from 28 countries. The winner and finalists were judged on originality, depth of concept, continuity of design, and quality of craftsmanship. This year's jurors were 2020 AJF Artist Award winner MJ Tyson (US); collector and gallerist Karen Rotenberg (US); and educator and curator Chequita Nahar (The Netherlands). The unrestricted cash prize of $7,500 for the winner and $1,000 each for the finalists was generously funded by two members of AJF. AJF would also like to thank AJF board member Sofia Björkman, the owner of AJF gallery member Platina Stockholm, for providing a showcase for the winner and finalists during Schmuck.Each finalist will be interviewed on AJF's website over the next few months, and we look forward to sharing more about these talented artists with you.
2022 AJF YOUNG ARTIST AWARD WINNER: Mallory Weston
2011–2013 MFA, Jewelry + Metalsmithing, Rhode Island School of Design, Providence, RI, US
This series explores the familiar landscape of a digital world superimposed on the foliage of rare plant specimens. Coincidentally, these lush species also lead a double life as popular houseplants with a sometimes cult-like following. This is due in part to the recent phenomenon of wanting to cling to other life forms to tend and care for during our collective experience in isolation. The excitement of watching a new leaf slowly unfurl or buds appear after a period of dormancy, something to look forward to during quarantine. Constructed of anodized titanium, my work mimics the sleek devices that we depend on every day. I investigate the connection between natural imagery and the technology that mediates our existence. Consider plant propagation. With enough care, you can swap cuttings and grow a new plant from a single leaf. Nodes can take root and lead to exponential generations of offspring. This growth emulates the spread of information and virality seen in the online ecosystem.
— Mallory Weston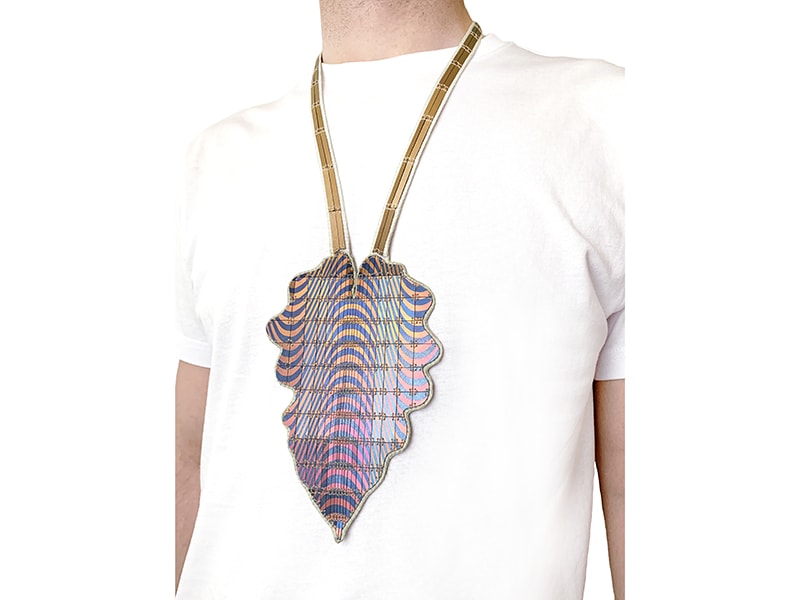 Juror comments
When NASA landed men on the Moon, titanium shielded both man and machine. Anodized titanium provided a new material for jewelers. Acceptance was immediate, but innovation limited. Now Mallory Weston offers us an amazing visual trip using the digital world to create astonishing patterns that highlight the variety and beauty of plant life. She has managed to join the hard (titanium) and the soft (fiber) to create a harmonious and compelling statement about our environment.
— Karen Rotenberg
A beautiful marriage between the digital and craft worlds, showing craftsmanship and awareness of the current development in technology in relation to topics such as technature.
— Chequita Nahar
In this series we see the combination of current fascinations, such as handheld tech and houseplants, with a now-vintage aesthetic pulled from the mass culture of the 1990s. Weston has managed to sync these two eras, creating work that is perfectly of the artist's time.
— MJ Tyson
2022 AJF YOUNG ARTIST AWARD FINALIST: Taisha Carrington (Barbados)
2018 BFA, Jewelry Design and Metalsmithing, Pratt Institute, New York, NY, US
I Had a Dream of a New Old Caribbean reimagines how black people came to the Caribbean, proposing that they arrived as superheroes who escaped slave ships and not as enslaved people. I use this "new history" as a reference guide when exploring my home, Barbados. Instead of seeing beaches and cane fields as reminders of a colonial past, I imagine them as homes of superheroes and places where they would find materials for talismans. These artworks serve as anchors to build new memories on to combat the complexities of postcolonial trauma and foster communal healing. I gather volcanic ash, clay, welks, and conch shells during walking meditations. I obtain the mother-of-pearl by removing the exterior of the welks shell. Any unused shell pieces are returned to the beach. Fold-forming and chasing are used to make the pieces lightweight though large. The form and materials of each piece tell individual stories of resilience, survival, Creolized knowledge, and vibrant futures.
— Taisha Carrington
Juror comment
With this series Carrington reimagines the past to create a new present, one of the most powerful things an artist can do. Hug Links is particularly moving with its layered references to chains, earth, bodies, Venus, and the ability of jewelry to hold meaning.
— MJ Tyson
2022 AJF YOUNG ARTIST AWARD FINALIST: Aaron Decker (US)
2015 Cranbrook Academy of Art, Bloomfield Hills, MI, US
My work applies unconventional enameling techniques to pieces that critique US involvement in geopolitical conflicts through reference of military objects and insignia. Many of these pieces also reference my developmental experiences as a child raised in military bases and how the camouflage incumbent on queer youth in these contexts parallels other forms of camouflage assumed by structures of power and privilege. Jewelry is unique among artistic mediums in that it lives with people. As worn objects, jewelry pieces are assemblages—unions of materials, symbols, and memories. My work explores jewelry as an interplay of component parts through specific formats: demi-parures, lockets, and toys combined with bomb-like figurines. Like people, they are each combinations of smaller selves that reconfigure over time, changing with the wearer. Sometimes a necklace, sometimes a keychain or brooch, these pieces struggle with themselves, like we all do.
— Aaron Decker
Juror comment
Mastering innovative enameling techniques, Aaron Decker creates forms that are both challenging but wearable. An impressive balancing act of fear and fun that critiques our misguided efforts to use weapons to resolve conflicts.
— Karen Rotenberg
2022 AJF YOUNG ARTIST AWARD FINALIST: Marion Delarue (France)
2012 master year, ceramic and glass department, Estonian Academy of Arts,  Tallinn, Estonia
In the shoulder brooch Parrot Devotee, the idea of imitation is embodied through the very image of the parrot. A barnyard fowl swoons with admiration and jealousy over a parrot: the incredibly beautiful bird enjoys a special intimacy with the master, whose shoulder he perches on to converse. With a will to pass themselves off as him, the poultry birds organize themselves and put together their most beautiful feathers to re-create the illusion of his presence. The Tennennomono collection (combs, hair sticks, and hairpins) has been conceived from bone, wood, shell, stone, and horse hoof, materials of natural origin traditionally used for making Japanese hair ornaments. The aim is to search within these "raw materials" for decorative features inherent to them, to harness their "natural patterns" and their unusual chromatic shades: to reveal the unexpected in the familiar. Creating ambiguity, the pieces play with the confusion between the natural and the ornamental.
— Marion Delarue
Juror comment
This is a lovely exploration of a classic form. Marion Delarue's series celebrates the inherent beauty of natural materials which have been crafted for use with the body.
— MJ Tyson
2022 AJF YOUNG ARTIST AWARD FINALIST: Cong Ma (US)
2009–2012 BFA, Chinese Painting, Capital Normal University, Beijing, China
2013–2014 Fine Arts, Metalsmith, TsingHua University, Beijing, China
2015–2017 MFA, Metal, State University of New York at New Paltz, New Paltz, NY, US
God is a mathematician, and everything was created by geometry. As art takes on many forms through many innovations, the fundamental forms are still comprised of geometric shapes. Yet things are not wholly what they seem. In the process of creating three-dimensional shapes, complex mathematical calculations were needed to find the angles of two intersecting bodies. A 90-degree angle intersecting a slanted surface unfolded onto a two-dimensional panel is no longer 90 degrees. Thus, by designing in between different dimensions, I realized human perception is naturally limited to understand only a three-dimensional cross section of higher-level dimensions. My exploration in geometry and higher dimensions inspired me to think about jewelry pieces as total works of art in an existential way. Pins feel too restricting and forced upon. But programmed magnets are strong and can unlatch when rotated 180 degrees. Magnets add freedom and cohesiveness to the jewelry, implying an object's multidimensional existence.
— Cong Ma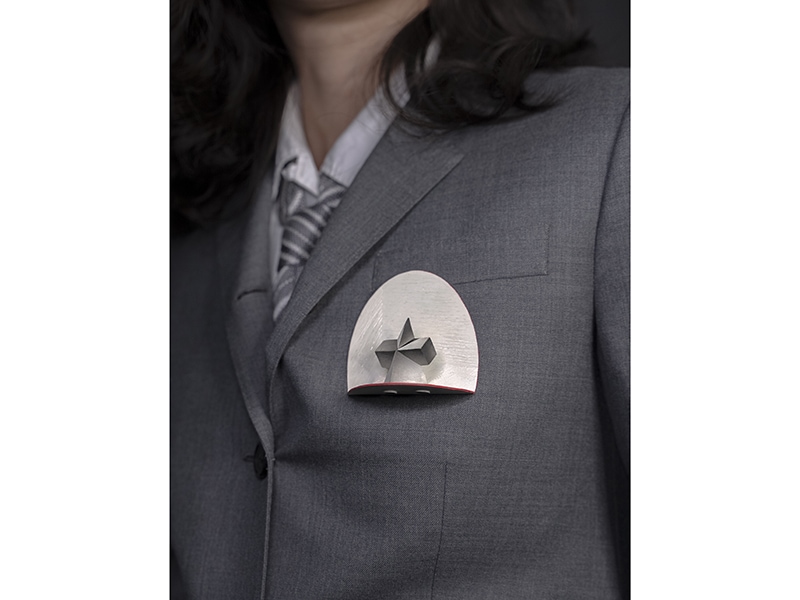 Juror comment
Jewelry showing the artistic position of the maker, architectural notations, beautifully crafted and playing with the material, shades, and placement on the body, as well as wearability.
— Chequita Nahar
About the Young Artist Award
The biennial AJF Young Artist Award recognizes new and exciting work that will direct the future development of art jewelry. The international 2022 competition was open to makers of wearable art jewelry age 35 and under who were not currently enrolled in a professional training program. Work submitted must have been unsupervised and not submitted for a BFA or MFA show. Submitted work must have been completed within the previous two years.
###
About AJF
Art Jewelry Forum is a nonprofit organization spreading awareness and increasing appreciation of art jewelry worldwide since 1997. Its diverse community of artists, collectors, critics, educators, galleries, historians, makers, and writers is united by a passion for art jewelry. AJF advocates for art jewelry through an ambitious agenda of education, conversation, and financial support. It commissions critical writing that sets the standard for excellence in the field and publishes artjewelryforum.org, an internet resource for original content on art jewelry.
[ad_2]

Source link