[ad_1]

I'm shopping formal dresses on Amazon! Actually, the real headline is that my daughter is getting married in October — an evening ceremony in a posh Brooklyn restaurant.
In that context, I'll be meeting new friends and extended family members. And when I look a new acquaintance in the eye and say, "I'm a 50-year-old fashion blogger," I feel like I should be wearing a really great dress. Right?
All that is to say I don't want to settle for a nice dress. I want it to be stunning. Since February, I have tried on at least 14 formal dresses. There was a handful in a New York dress shop and another batch in a New Mexico dress shop. My last six dresses, though, came from Amazon — specifically Amazon Try Before You Buy (formerly known as Amazon Prime Wardrobe).
When you buy via links on this page, I may earn an affiliate commission. Learn more.
About Amazon Prime Try Before You Buy
With Prime Try Before You Buy, you can order multiple garments, try them on at home, and make your buying decision — all before you've laid out a single cent. It's a lovely shopping experience for a formal dress. Here's why:
It's easier to test drive a formal gown at home vs. in-store. You can stand up and sit down, bend over, experiment with different undergarments — without an eager style consultant standing by.
You don't have to tie up $$$ on your credit card by paying for the dress first, only to return it later. I tried six dresses from Amazon. In total, they would have cost me nearly $2,000.
You can try the dresses at different times of the day. Lighting can influence whether a color makes you look radiant or washed out.
It's super fun to have formal dresses delivered to you for free. No explanation needed here.
If you're interested in using Prime Try Before You Buy, there are some rules to know:
Prime Try Before You Buy is available to Prime members and the members of their Amazon Household.
Amazon caps the dollar value of goods you can try at one time. My limit was $1,000. I ordered four dresses to start, then another two in a separate order. I could not complete the second order until I had returned all dresses in the first one.
You have seven days to try the pieces. The seven days starts when the order is delivered. My first order arrived in two shipments and the seven days began when the second shipment arrived.
You must tell Amazon which items you're keeping, if any. You can do this by accessing your order details in your account.  
Return the items you don't want before the trial period ends. Your order will include a shipping label. You may also have the option to return to a nearby drop-off location, without packaging or a label. Otherwise, you can package up your formal dresses and drop them off at a UPS store.
If you do nothing, Amazon charges your credit card for the full order after seven days.
My experience
I returned all six dresses, with no issue. I had a brief panic moment when I'd thought I lost the return shipping label — but it wouldn't have mattered. Where I live, Amazon gave me the option to take the dresses to Kohl's instead of shipping them.
Bottom line: I will use Prime Try Before You Buy again, especially for high-end dresses (or when I'm being particular about what I want).
A tip for stylish mommas out there: I started by searching for "mother-of-the-bride" dresses, but I had to change course. You can probably surmise this by the difference between the first four dresses and the last two. The MOTB dresses were generally more matronly than I wanted. I had better luck searching "formal gowns."
Now, for the best formal dresses on Amazon. Please excuse my bare feet!
Shop Byrnie for chic style at Budget Fashionista prices. New styles added this week!
1. Alex Evenings sleeveless ($239)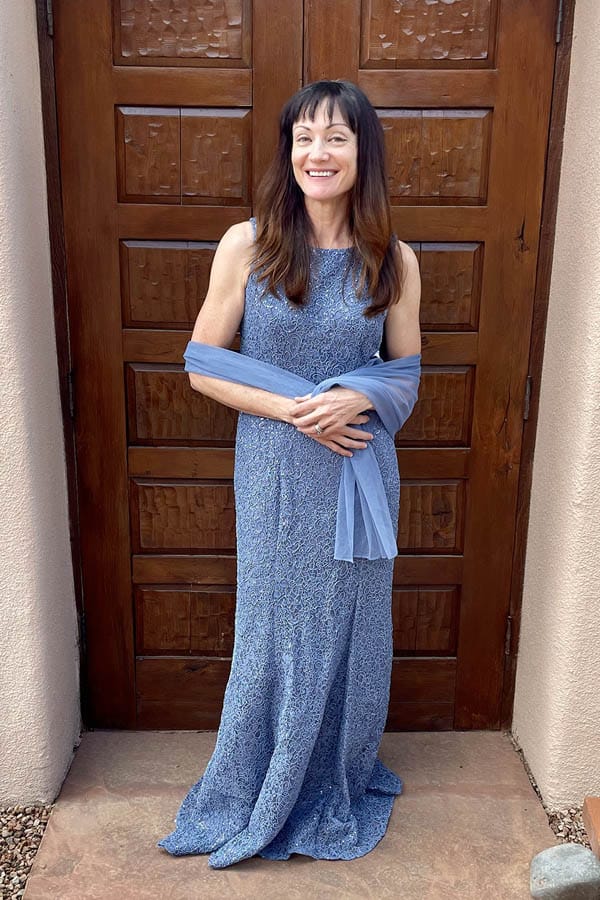 I love the color of this dress, the hint of shimmer, and the pretty shawl. It was a size too big, though, and heavy enough to be mildly uncomfortable. Shop this dress here.
2. Adrianna Papell navy blouson dress ($193)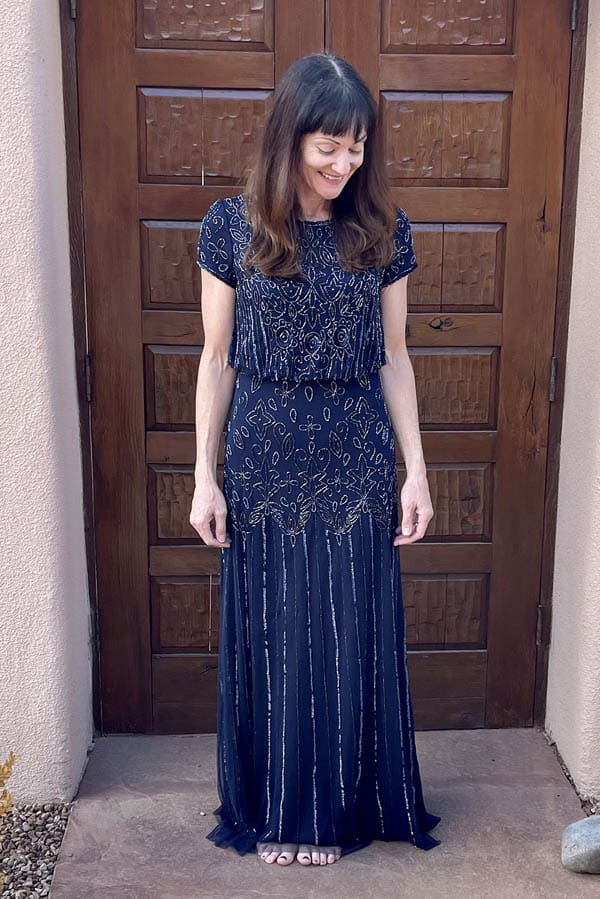 Gatsby-inspired with a blouson top — I thought this one would be the keeper. Turns out, that loose top looks frumpy on me. Shop this dress here.
3. Adrianna Papell burgundy blouson dress ($209)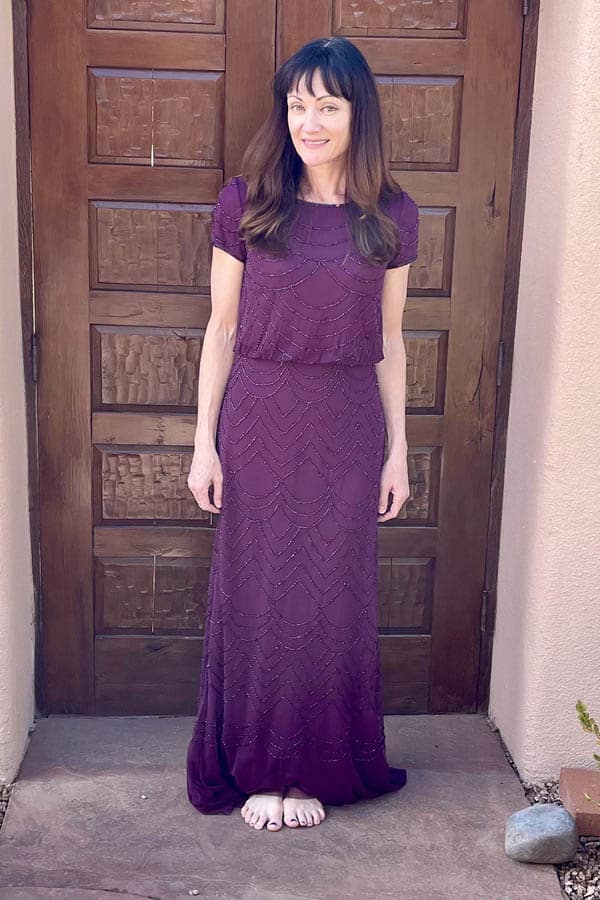 If nothing else, I'm consistent. This one is very similar to the navy dress above, but with simpler beading. The pattern is beautiful, but the silhouette didn't work for me. Shop this dress here.
4. Adrianna Papell Godet Gown ($300)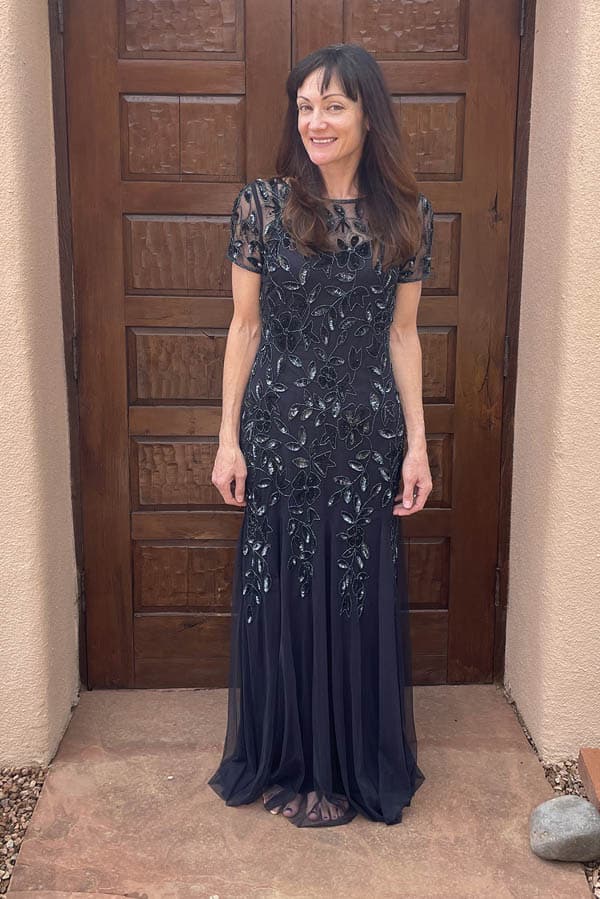 Of the course, the most expensive of the bunch was my favorite. That's always the way. I do like this dress, but not enough to commit to it. I wanted to keep experimenting with necklines and shapes. Shop this dress here.
5. Black Halo Asymmetrical ($500)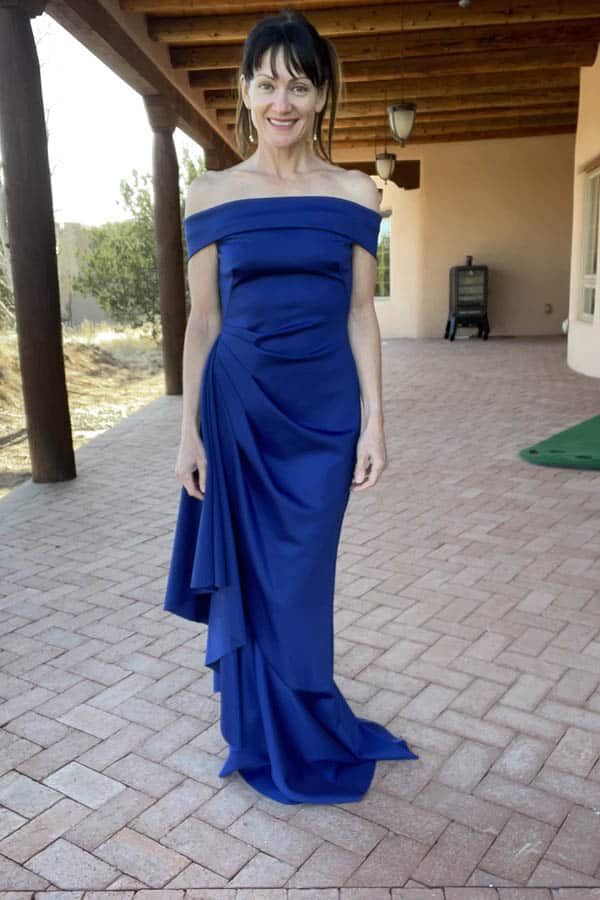 The color drew me to this one. I don't normally go for gathers, but I figured why not try it? As it turned out, the gathers didn't bother but the sleeves did. The off-shoulder sleeves were too tight. I could barely raise my arms. That might be why I look sort of frozen in this pic. 😐 Shop this dress here.
6. Adrianna Papell long sequin dress ($129)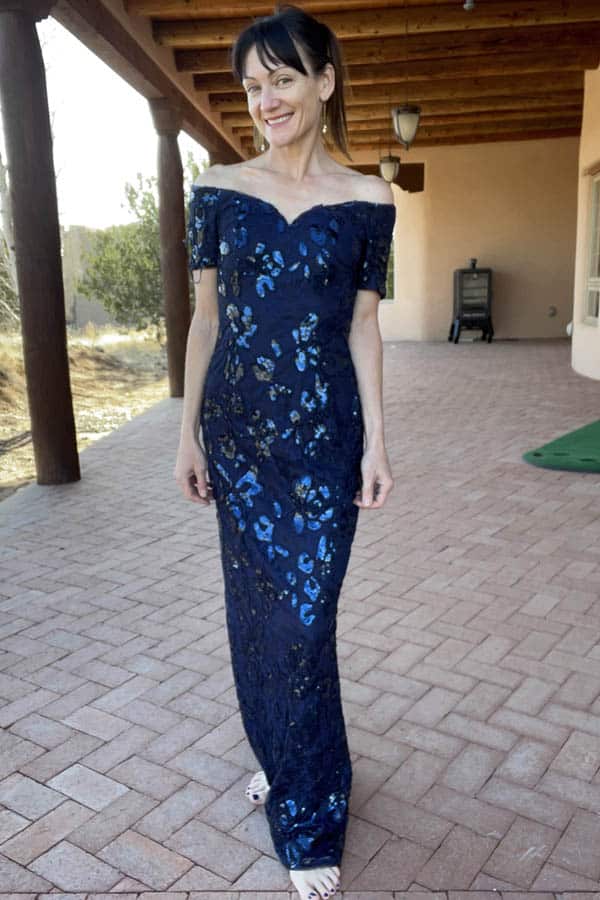 This one might have been the keeper, but the beading was loose on one shoulder. I sent it back, sure that I could find the same dress elsewhere. I regret that move now because this style seems to have disappeared into the ether. I checked AdriannaPapell.com, Macys.com, BHLDN with no luck.
You can buy this dress if you wear a size 6. There's only one left, according to Amazon.
So…all those dresses and I still have more shopping to do. The good news is that trying the Amazon gowns helped me find the silhouette I want. That should make the rest of my shopping a whole lot easier.
[ad_2]

Source link